Present-day

Unfortunately the complete entries of this Present-day page are only available in Dutch.


January 26th 2020: auction of the works of Theo van den Boogaard at Scheltema in Amsterdam!
Check out the auction page here.

4 februari 2019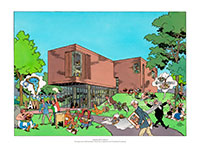 The Lisser Art Museum


Theo's latest production: Drawing of the Lisser Art Museum. Full color inkjet printing on high quality art printpaper Hahnemöller. Size: width 90 cm x height 60 cm.

The dutch VandenBroek Foundation commissioned KVDKarchitecten to design and have built the Lisser Art Museum, to house its beautiful collection of both modern and ancient art, of which the theme always is connected with food, since the VandenBroek Foundation has its roots in the chain of supermarkets Dirk van den Broek.

Theo brought together the amazing form of the museum in the beautiful surroundings of De Keukenhof at Lisse with his own personal homage to the great creators of comic book characters and other artists who all have a connection with food.

This art print, signed by the artist, can be sent to you in a cardboard tube at the total price of € 130,- (within The Netherlands)

Order in the webshop.



23 March 2017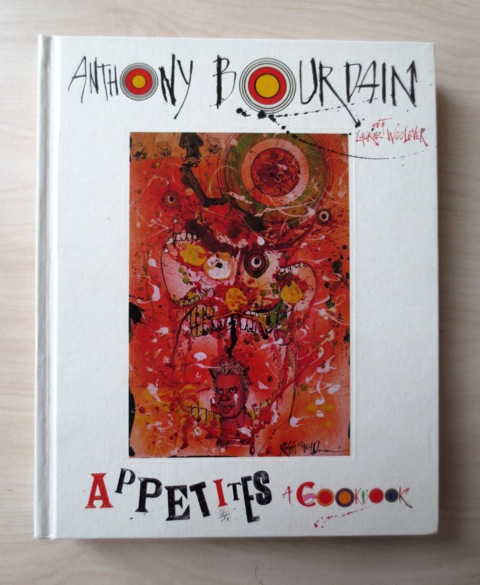 Bourdain's Appetites now for sale
Together with co-write Laurie Woolever, Anthony Bourdain delivers a fantastic book in his typical frank and funny style as we know him from his TV appearances. Recipes and photos are of an astounding surprising quality. A real treat!

Theo's fold out poster has been inserted in the American edition (obtainable in the better bookshops). Alas de poster hasn't been put in the Dutch edition. (Uitgeverij Carrera Culinair)

Also see: Anthony Bourdain appears to be "a big fan of Theo's work"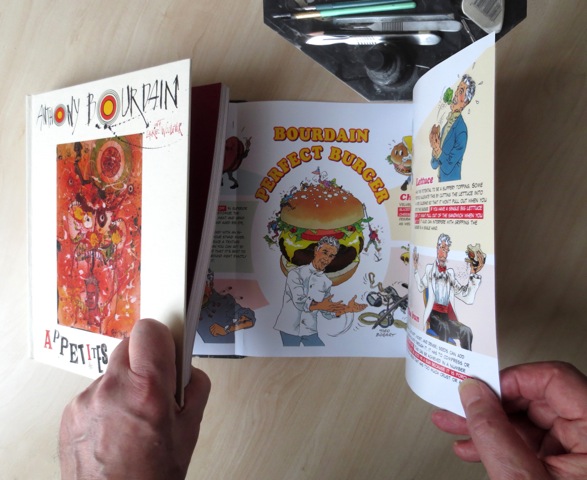 June 7, 2016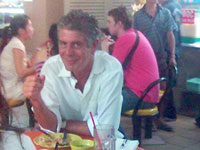 Anthony Bourdain appears to be "a big fan of Theo's work"



The famous American chef and television personality Anthony Bourdain appears to be "a big fan of Theo's work".
He commissioned a poster made by Theo, who just finished it on de 22nd of May, by the time Anthony and president Obama were having a bowl of noodles in Hanoi.


The poster is going to be inserted in Anthony's forthcoming book "Appetites".
Anthony was "very, very pleased with the poster".

UPDATE: Book "Appetites" is now available. Take a look at the book and Theo's poster here.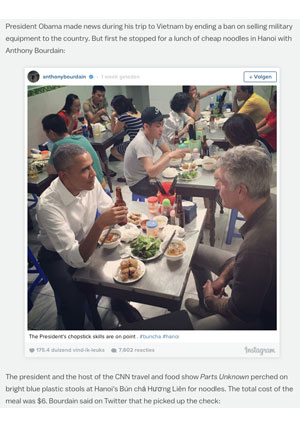 07 juni 2016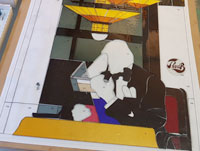 Coming Soon: Cartoon Windows



On initiative of Atelier Schmit famous comic book artists like Joost Swarte, Ever Meulen, Theo van den Boogaard and others are invited to make a design for a leaded and stained-glass window size 100 x 70 cm.

See part of Theo's design of his charactar Mr.Ponsford in black and white and the photo below of the work on his cartoon window in progress now, which can be seen, with already finished other cartoon windows in Atelier Schmit.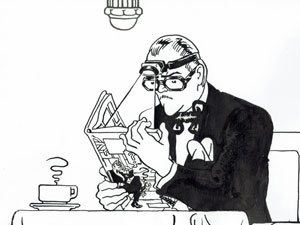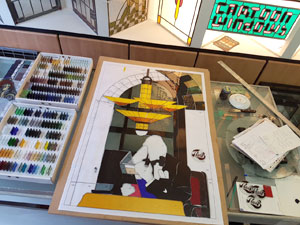 May 30, 2016
Theo van den Boogaard sings his own song "Four winters in a row"
Theo van den Boogaard sings a song he has written: "Four Winters in a Row".
He also made the illustrations.


February 14, 2015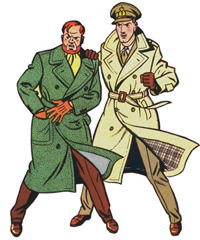 Test page for Blake and Mortimer presented to Editions Dargaud by Theo van den Boogaard
Two years after Editions Dargaud's request to Theo van den Boogaard to make a test page of their series Blake and Mortimer, Van den Boogaard finally delivered his work. The page that Dargaud committed to Van den Boogaard came from the same scenario which was already in production by André Juillard, which resulted in his recent publication Le bâton de Plutarque. Long before that date, Van den Boogaard had already made the overall layout and the execution of this page. In its reaction, Dargaud now states that the publishing house has much respect and admiration for the graphical qualities of Van den Boogaard's test page, but that they wish to continue the series in a more realistic style than Van den Boogaard has presented.

For quite some time already, Van den Boogaard has been working on part two of his "Theo Bogart, BOB DYLAN ILLUSTRATED" and production steadily continues. He is also currently working on mural decorations in the Nederlands Kanker Instituut (Dutch Cancer Institution) in Amsterdam.



Français
| | | |
| --- | --- | --- |
| | | |
| Theo van den Boogaard page | | André Juillard page |


April 18, 2014 / UPDATE June 16, 2014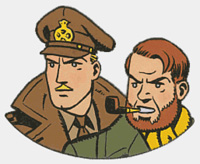 Theo's Blake & Mortimer adventure...
What's happened?
A meeting has taken place in Brussels between Van den Boogaard and Blake and Mortimer-editor Yves Schlirf.
Theo will make some testpages of Blake and Mortimer.

SOS Dessinateur Disparu: Fake-cover of an B&M-album: "SOS Comicbook artist disappeared."
"Give me back my Van den Boogaard!". Theo's main charactar Léon-La-Terreur (Dutch: Sjef van Oekel, English: Mr. Ponsford ) attacks Mortimer. Made at the occasion of Angoulême Festival, January 2014, where Dutch comicbook-artists were the main topic of the year.

UPDATE: On the Galerie Champaka website you can see beautiful photos of the opening night.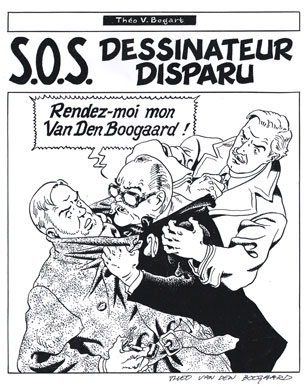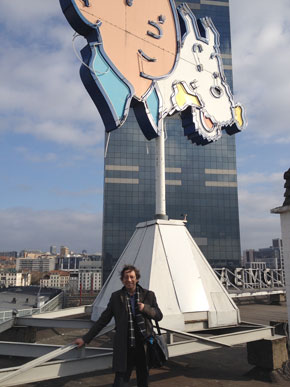 (click for larger image)


April 17, 2014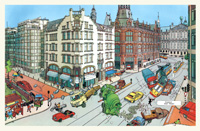 Selling Exhibition in Galerie Champaka, Paris!
First sale-exhibition in France of Theo van den Boogaard's Amsterdam-related original artwork "The Clear Line from Amsterdam." Galerie Champaka-Paris, 24th of April till 17th of May, 2014.

The Dutchman Theo Van den Boogaard combines the virtuosity of André Franquin with the rigour of Hergé to create a true choreography of 'The Clear Line'. Galerie Champaka Paris is honoured to organise the first selling exhibition, in France, devoted to his star character, Léon-La-Terreur! The survey will be completed by large illustrations dedicated to Amsterdam, the city of Léon and of Theo.

For more information go to the website of Galerie Champaka.



(click for larger image)


October 4, 2013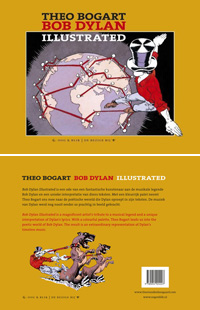 Bob Dylan Illustrated for sale in the bookshop!
As of today Theo's latest book is for sale in the bookshops and online. (Amazon.co.uk link here)

Bob Dylan Illustrated is a magnificent artist's tribute to a musical legend and a unique interpretation of Dylan's lyrics.

With a colourful palette, Theo Bogart leads us into the poetic world of Bob Dylan. The result is an extraordinary representation of Dylan's timeless music.

A must have for every Dylan (and Bogart) fan.

Below are some of the illustations from the book.






















(click to enlarge)

Unfortunately the other entries of this Present-day page are only available in Dutch.

You can however, visit the English History page.