History


Theo van den Boogaard was born on 25 March 1948 in Castricum, the Netherlands. From childhood Theo drew comics. Theo van den Boogaard was only fifteen years old when his first comic, 'Mark, Boter bij de Vis', was published by publisher Kennemer in 1964. After this he produced many illustrations for music magazine Hitweek, including the 'Striptease' series, in which he used songtexts to illuminate social criticism. In 1967 Van den Boogaard and Jan Donkers started the comic series 'Witje en Gert' for Hitweek, which was continued in magazine Aloha in 1968-69. For Studio he drew 'Pinokkio' in 1968.

Ans en Hans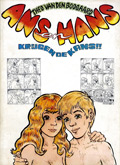 Theo's breakthrough was not Witje, however. It came in 1969 with the first Dutch sex comic Ans and Hans, published in the cult magazine Aloha. This comic, about a young couple and their sexual experiments, was quite provocative for the time. For the youngsters of the Dutch sixties, the 'Ans en Hans' comix stood for free sexuality.

It has elements in common with his later work, as described by comic-strip journalist Martijn Daalder: "His comic characters are still free: free of shame, of social restrictions, free of fears and complexes and of the deadening grind of everyday reality."

Sjef van Oekel (Mr. Ponsford)

Van den Boogaard broke into mainstream comics with the 'Sjef van Oekel' series, which appeared in Nieuwe Revu from 1976. The lead character in these stories is Sjef van Oekel, known in French as Leon-la-terreur (Leon the Terror), in Spanish as Léon El Terrible (Leon the Terrible), in German as Julius Patzenhofer (though this was changed as Leo der Terrorist, to the artist's dismay) and in English as Mr. Ponsford.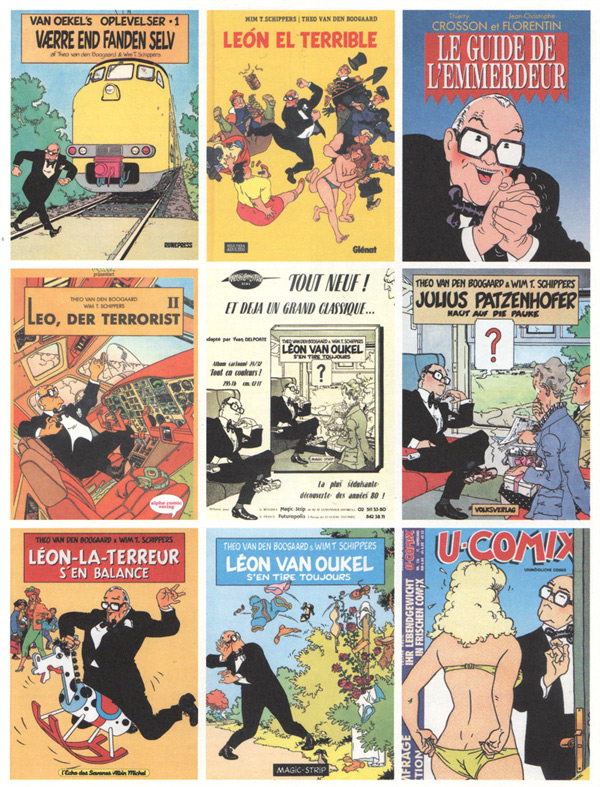 With this adaptation of TV personality Van Oekel (a mixture of an opera singer, a door-to-door salesman and an anarchist gentleman-philosopher), van den Boogaard and scriptwriter Wim T. Schippers had a big hit. The typical nonsensical Van Oekel language found its way into everyday speech.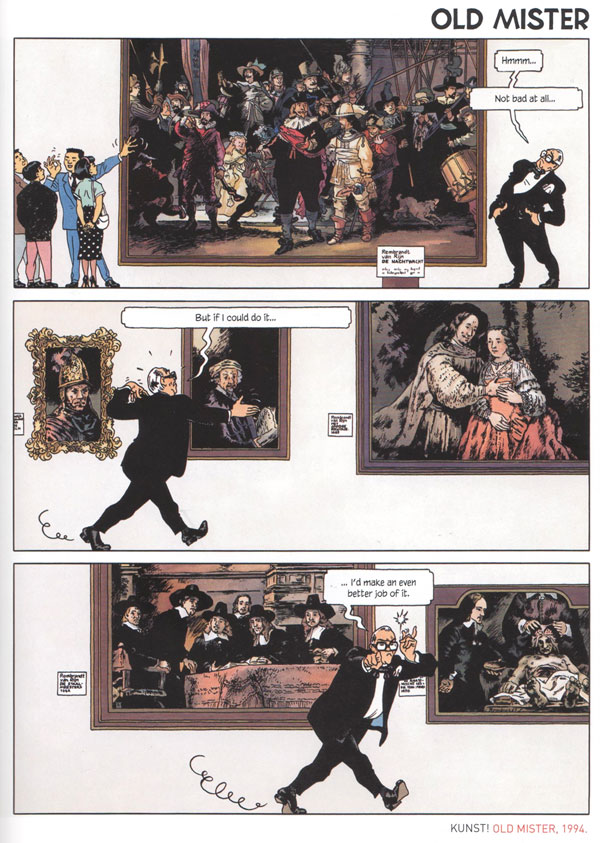 Mr. Ponsford's Quest, 1984

Click images for larger view: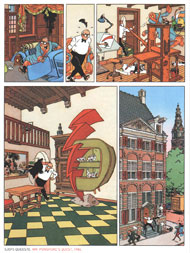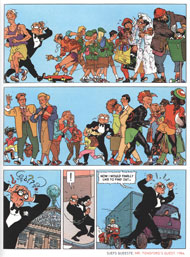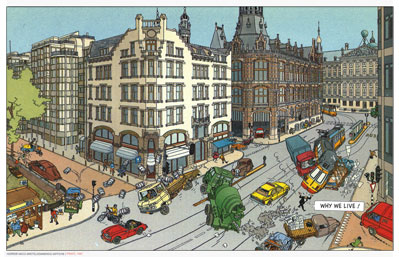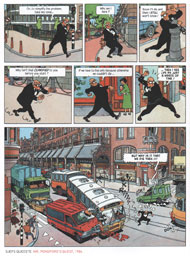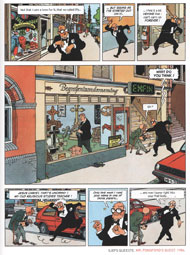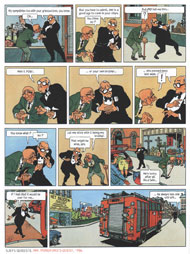 Railway stations

Theo van den Boogaard loves railway stations, with their milling masses and beautiful architecture. Over many years he has had a close and productive relationship with the NS, the Dutch national railway company.
Van den Boogaard explained his admiration for stations and flyovers in a newspaper interview: "Those projects are amazing. Truly enormous. I'm very glad that they're called artworks in Holland. The calcultions they require, the distribution of the weight... I feel at home in the flat plane. They have to make it all happen in 3D without the whole thing crashing down."
The stations in this series are finely detailed renderings based on blueprints and on conversations with architects. The almost complete absence of people gives them a hushed atmosphere, in contrast to his other work with its daily bustle.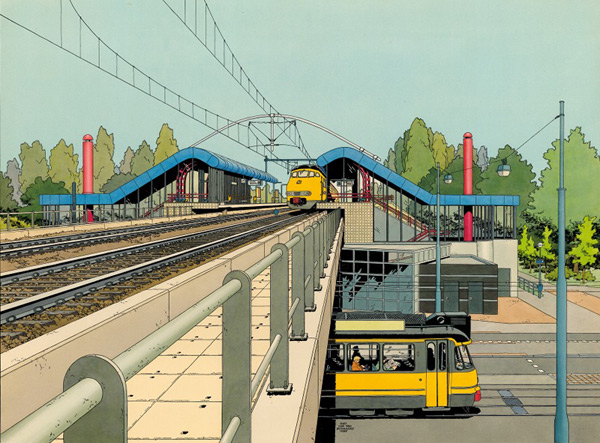 De Vlugtlaan railway station (1984)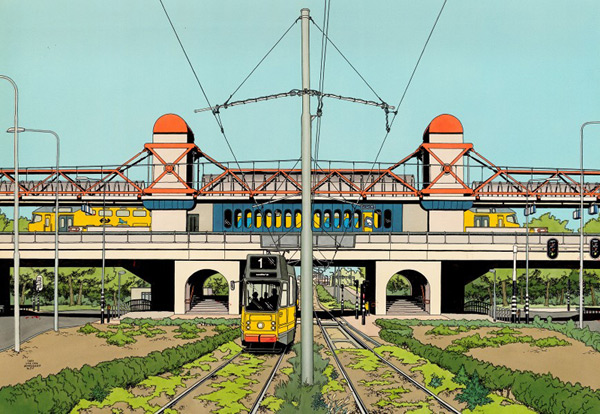 Lelylaan railway station, 1989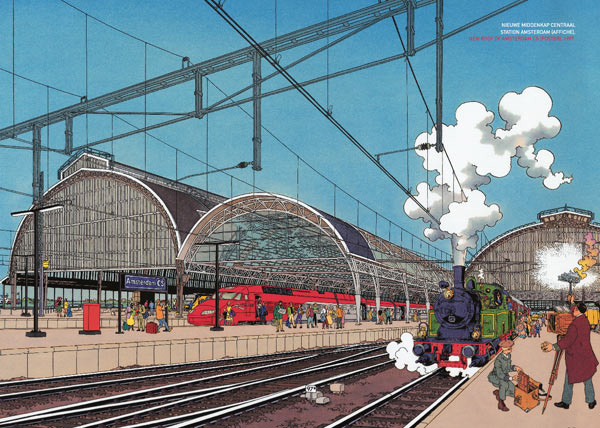 New roof of Amsterdam CS (poster) 1997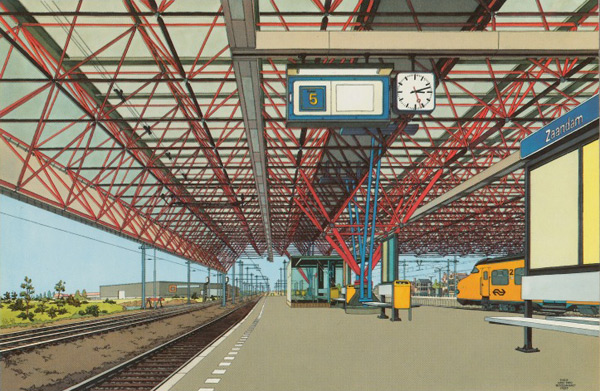 Railway station Zaandam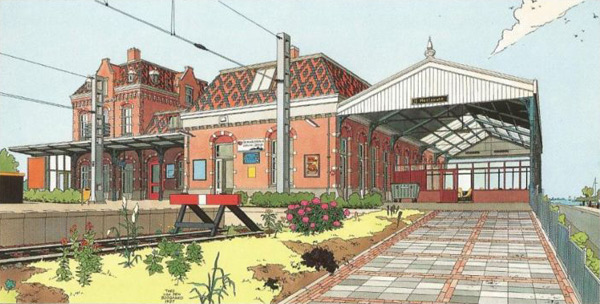 Railway station Enkhuizen

The Clear Line and free works

Theo van den Boogaard is much admired for his detailed clear line drawings. In later years, he has concentrated on widely different free and commercial works, many of which were collected in the exquisite catalogue 'Taal en teken' (Oog & Blik, 1992). In 2010 he published 'Streken van een Serialtekenaar', a collection of new comics and drawings, including the series 'Kenschetsen' (originally published in De Volkskrant) and new 'Witje en Gitje' stories.

Awards

In 1989 Theo van den Boogaard won the Dutch Stripschap Award for his entire oeuvre.

Exhibitions

For a list of exhibitions (partly in Dutch), click here.